On the day we were planned to take a tour to Phi Phi Island, we were picked up by a van at 8 am sharp. When we got in, there were already 6 other tourists in the van, and after we began "where do you come from" conversation, we knew that all of us were coming from Indonesia. It is because we booked the tour through Miss Ladda, so that explains why we could be in one van:p
Within 20 minutes we arrived at the Rassada Pier. We were given a green sticker, which has two numbers on it; one number is our speedboat number, and the other number is for the lunch table number. The tour agency provided coffee break at the Pier. But we just had our breakfast at the hotel. There are also some little shops at the Pier. Bread for the fish feeding activity is also sold at the Pier. The tour guide explained that the masker for snorkeling will be provided, but if we want to rent the fin for snorkeling, we have to rent it at the pier cost THB 100.
The preparation
TomTom - our guide
At 09.10 we boarded on the speedboat. There were about 40 people, the speedboat was full but everyone can sit properly. Tomtom our van driver was also the tour guide for our Phi Phi tour. He explained the rundown schedule of that day, than when he finished, the speedboat began to go faster and faster... The wave was big, so it was not that fun:p We could choose the big boat tour, but it's longer and couldn't reach Maya Bay. That's why we choose the speedboat tour.
It took 45 minutes from the pier to reach Phi Phi Leh Island and the speedboat stopped at Maya Bay, this is the famous beach from the movie "The Beach" It was beautiful but very crowded. We stopped there for about 45 minutes.
Then we continued sightseeing around Phi Phi Leh Island, the viking cave, this place is amazingly beautiful.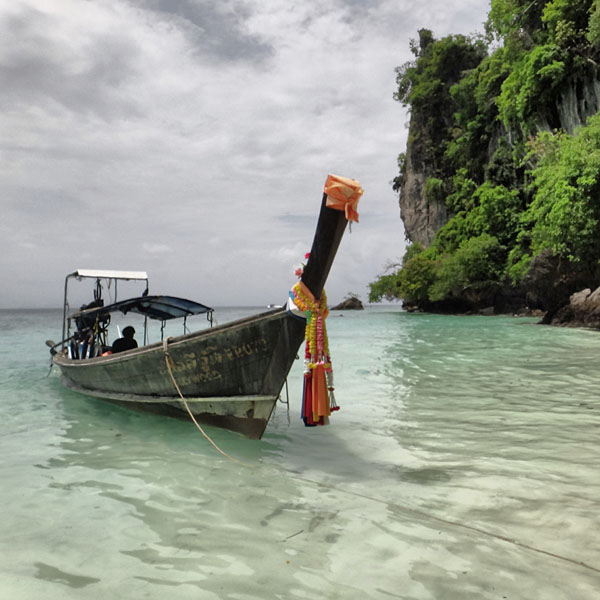 A long tail boat at Monkey Beach
I didn't dare to feed the monkey though;p
Then we went to the Coral Bay where we waited for other passengers for their snorkeling session. The weather was nice, it was not hot, so we could just enjoying ourselves watching the fish and other people snorkeling from the speedboat.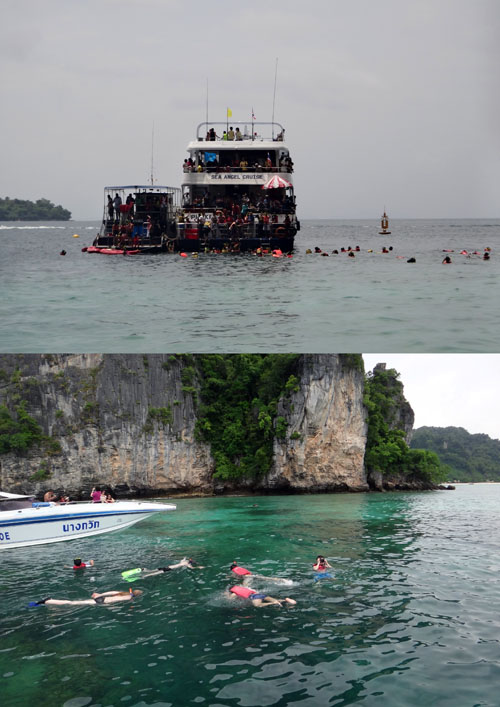 It's snorkeling time
After 25 minutes, we continued our journey to Phi Phi Island to have our lunch. The food was ok, too bad we were only given one hour including lunch at Phi Phi island. So we couldn't explore the island. But from a quick look, I would compare Phi Phi with Gili Trawangan, it's about the same. We tried to find a mosque, but it was too far from the resto and we were afraid that we will come late to the speedboat.
So we just waited around our speedboat, and also taking pictures.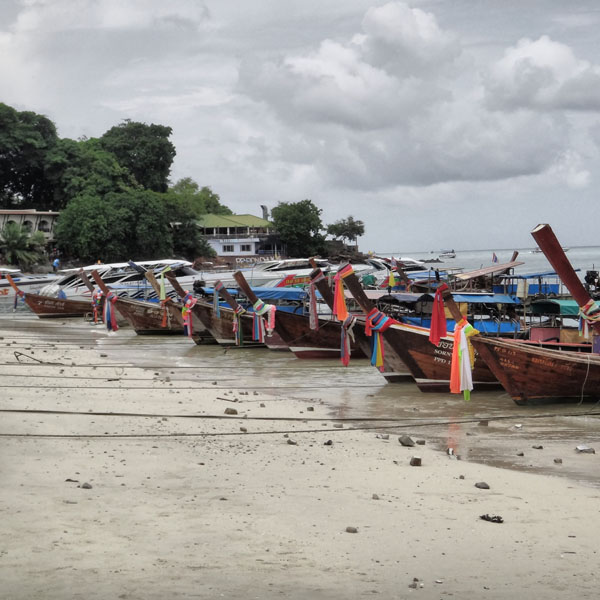 Dark cloud and the longtail boats at Phi Phi Island
The last island is the Kho Khai island. It was 45 minutes trip from Phi Phi Island to Kho Khai, and again there was big waves! Aargghh.. So if you plan to take speedboat, just prepare yourself:p
Kho Khai is a small island, we were given 1,5 hour to enjoy the island. We had a glass of ice cream for THB 150 (huge, yummy ice cream!) , and we also managed to do our prayer at the island (to be precised at the ice cream booth). Kho Khai has beautiful huge rocks and is a nice place to do swimming and also snorkeling.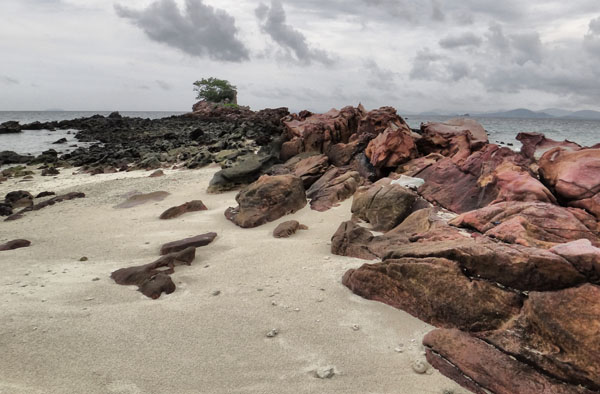 At about 3.45 pm we boarded on our speedboat and had another 30 minutes trip going back to Rassada Pier. At the end of the trip, Tomtom prepared a tip box for the whole crew. I saw many people giving THB 20, but I gave them THB 100 from me and rene, thought they deserved it as their service was excellent.
We were directed to go to the same group, same car for the transfer back to the hotel. We asked Tomtom to take us to Patong area, just the same with the other group. That night we ate at KFC Jungceylon Mall:p. We wanted to have a fine dining at one of the resto at Jungceylon. But all resto with halal sign sold pork dishes after we checked their menu. So please be advised to check the menu once more, don't trust the halal sign in front of the restaurant at Jungceylon Mall.
After having dinner at Jungceylon, we walked around Patong and found Hard Rock Cafe. There was a lady boy show in front of Hard Rock Cafe that night. We didn't interested to see the show, we went into Hard Rock Cafe then, went back using taxi cost THB 300 to Karon.